Let's talk about my newest pattern, Hello House!  It's baby size only for now, but I can guarantee it would be fab in throw size. Can you say housewarming gift??
When I designed this pattern I wanted something modern and simple. I started with the color palette below, inspired by the Design Seeds image, and called it Good Night House. One side along the rooftops being dark and the opposite being light reminded me of the same thing happening in the sky at sunset, when you say good night.  If you haven't checked out Design Seeds yet, it's a terrific source for color inspiration!
When it came time that I needed a baby quilt for a friend's shower, I knew I wanted to try out these houses I had been playing with. Wanting/needing to work within my stash, I remembered the adorable little Farm Fun by Stacy Iest Hsu charm pack I had been holding onto for so long. My friend is "team green" so the sweet little farm prints seemed perfect not knowing if baby is a boy or girl. I am so happy with how it turned out!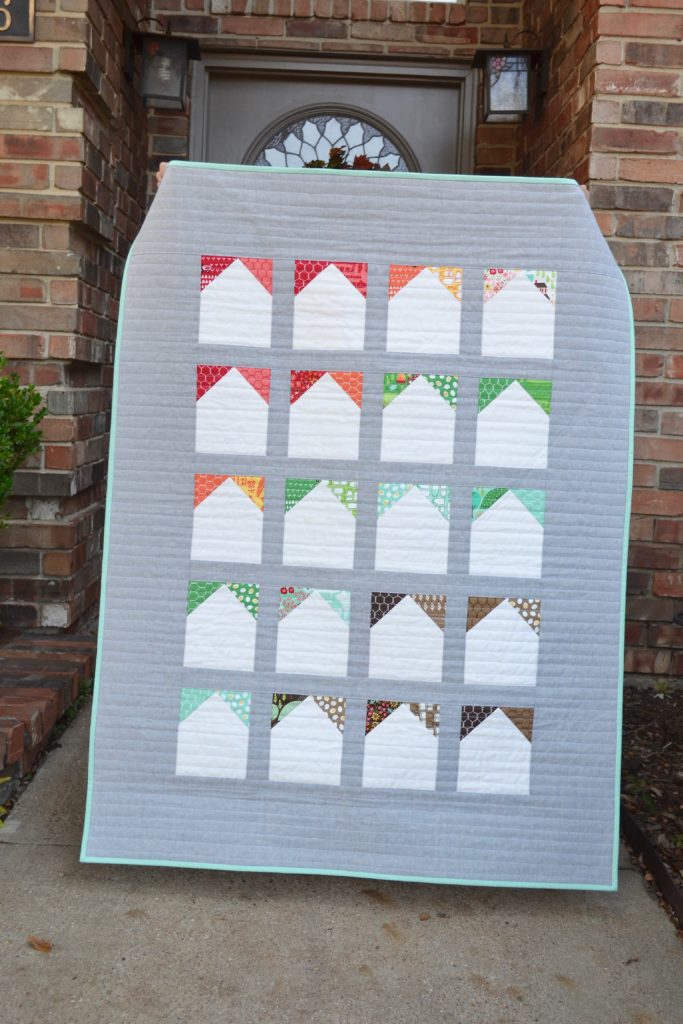 I did still arrange the accent pieces above the houses loosely following darker on the left side and lighter on the right. Although the effect is very subtle, I do think it gives some order to the finished project that your eye appreciates. I tried scrambling the rainbow of houses, but found the fabrics looked best to me in this arrangement diagonal wave of color.  The yarn dyed Essex in Steel gives good contrast with every print, and lovely texture.