*If you are brand new to free motion quilting, I suggest watching YouTube videos, taking a class, or seeking out a comprehensive instructional guide online as this is merely a thought dump on FMQ with this particular machine :)*

Free motion quilting on a domestic machine isn't for the faint of heart. In my experience it requires a lot of practice and stepping out of your comfort zone! Because of all the time you have likely spent preparing to FMQ an entire quilt, it is extra discouraging to have things like skipped stitches and broken threads plaguing your hard work. Also, ripping quilting out is slow and painstaking, so I prefer to avoid it as much as possible!
The JUKI TL-2010Q has become a very popular machine in the quilting community, so I thought I would share the machine settings settings that work best for me when FMQing! Of course there is no silver bullet for this with all the variables involved, but perhaps my numbers can give you a few ideas to hone in more quickly on your FMQ sweet spot.
Before thorough troubleshooting, my most frequent FMQ problem had been skipped stitches on designs with smooth curves like hearts, loops, and humps/scallops. I would be stitching right along just fine, but on certain parts of the design, skip one or several stitches in a row. Sometimes it seems to be caused by going over seams, and sometimes by a certain direction of motion in the design. (In my case, curved vertical lines sewn bottom to top, pulling the quilt toward me. This makes sense when you realize this isn't the direction a sewing machine is "used to" sewing.)
I did a lot of googling for adjustment ideas and after a bit of a trial and error, finally got things running smoothly! I happily finished the hump quilting on my pickle Tuesday Plaid quilt and took a snapshot of all my settings so that the next time I prepared to free motion quilt, I would be able to spend less time troubleshooting settings and more time quilting. A frustration free FMQ session is so satisfying!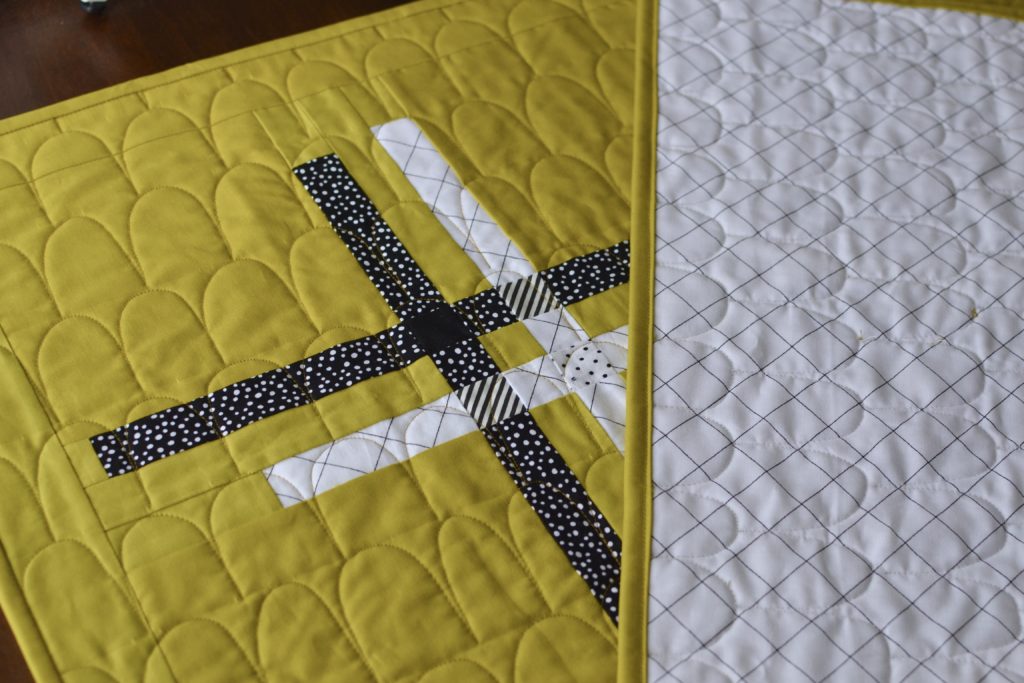 Using those prior settings, I was able to dive into quilting loops onto my baby size Tango Quilt after just a few small adjustments. Victory!!
My settings
When compared to my normal piecing settings, for free motion quilting my JUKI likes lower top tension and more pressure on the presser foot. Both of these adjustments keep my machine catching the bobbin thread effectively, thus avoiding skipped stitches!
*If this thread tension setting gives you too "flat" of a bobbin thread on the back of your quilt, the tension should be increased incrementally until you find a perfect balance.
My Supplies
I do not presume to say these are the "best" supplies for free motion quilting on the JUKI TL-2010Q, but they are what I use with the settings listed!
My prep
These are steps you may be tempted to skip, especially if you have done them recently. I'm here to say, DO THEM ANYWAY! Set yourself up for success with a clean, oiled, sharp sewing machine so you know whatever blips you encounter are due to technique or settings, not the condition of your gear.
Loopty loop
I chose the size of the loops on this baby quilt by the size of the blocks. I didn't want to mark for the quilting, so I used the guidelines of the bottom edge of each block to make my first row of loops, done left to right. I extended the loops about halfway up the block, just by eyeballing it.
After quilting each initial row of loops across the bottom half of every block row, I went back and did a second row of loops in the top half. I extended these loops up close to the top edge of the block. As you can see, I like a little variety in the size and shape of my loops. Allowing for a little variation keeps me sane and adds to the visual interest, in my opinion!
This is a good beginner FMQ design since you start quilting on the batting, and end on the batting. There is no need for thread burying or knotting! The predictable direction of the design also makes it beginner friendly, unlike a meander that requires you to make quick decisions about where to go next while you are stitching.
General tips
I recommend reading other, more comprehensive guides to free motion quilting and watching YouTube videos if you are new to free motion quilting, but here are some basic tips I've found useful!
I hope this advice has been helpful to those of you who own this machine, and maybe even some of you who don't! Happy quilting,
Robin