Let's talk about my newest pattern, Hello House!  It's baby size only for now, but I can guarantee it would be fab in throw size. Can you say housewarming gift??
When I designed this pattern I wanted something modern and simple. I started with the color palette below, inspired by the Design Seeds image, and called it Good Night House. One side along the rooftops being dark and the opposite being light reminded me of the same thing happening in the sky at sunset, when you say good night.  If you haven't checked out Design Seeds yet, it's a terrific source for color inspiration!
When it came time that I needed a baby quilt for a friend's shower, I knew I wanted to try out these houses I had been playing with. Wanting/needing to work within my stash, I remembered the adorable little Farm Fun by Stacy Iest Hsu charm pack I had been holding onto for so long. My friend is "team green" so the sweet little farm prints seemed perfect not knowing if baby is a boy or girl. I am so happy with how it turned out!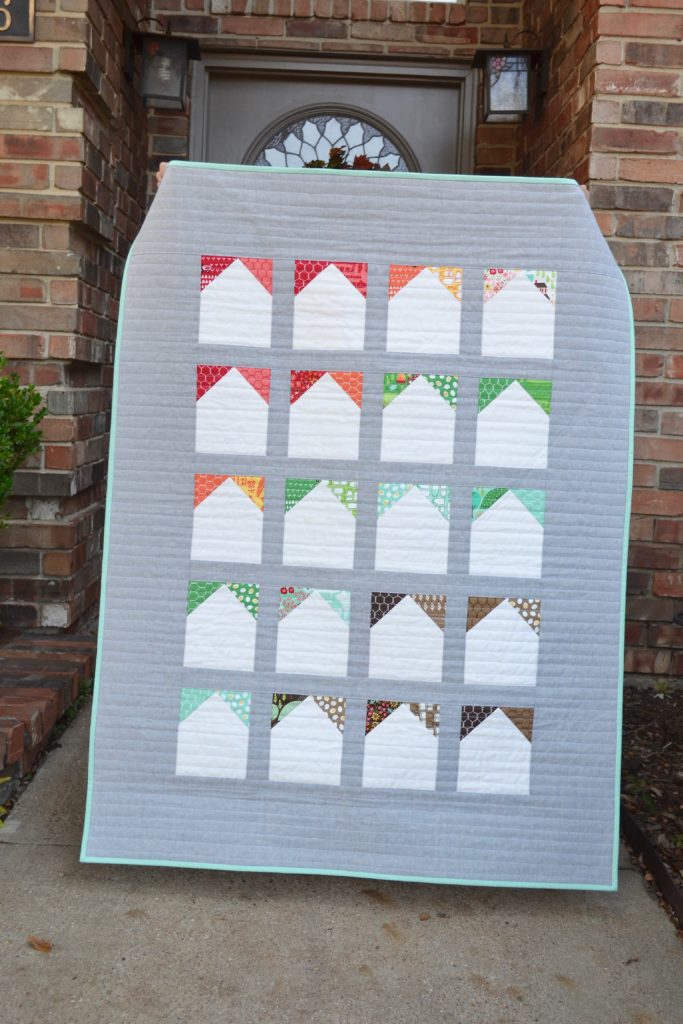 I did still arrange the accent pieces above the houses loosely following darker on the left side and lighter on the right. Although the effect is very subtle, I do think it gives some order to the finished project that your eye appreciates. I tried scrambling the rainbow of houses, but found the fabrics looked best to me in this arrangement diagonal wave of color.  The yarn dyed Essex in Steel gives good contrast with every print, and lovely texture.
One feature not mentioned in the pattern is this fun scrappy backing. Starting with a charm pack will leave you with a pile of 2″ x 5″ print scraps that are just begging to be used! I pieced these together and spliced my backing fabric, slightly off center, to add it in. The stripe is the Skinny Stripe in Steel from the Essex classic wovens line by Robert Kaufman. The binding is Kona cotton in Pond.
The same day I gifted my first Hello House quilt, I started another one!  My husband was going to visit a friend with a new baby the next day and I knew I could knock out a quilt in time using this simple pattern. This time I knew the recipient was a baby girl and decided to really go for it in the floral department!  Instead of a plain background, I opted for using a big, busy, beautiful print by Bonnie Christine called Foraged Garland in Peony. Knowing there would be much less definition and contrast than in the first version, I decided to embrace that and build the accent color palette to blend with the background print. The combination of different white prints for the houses really takes the scrappiness to the next level!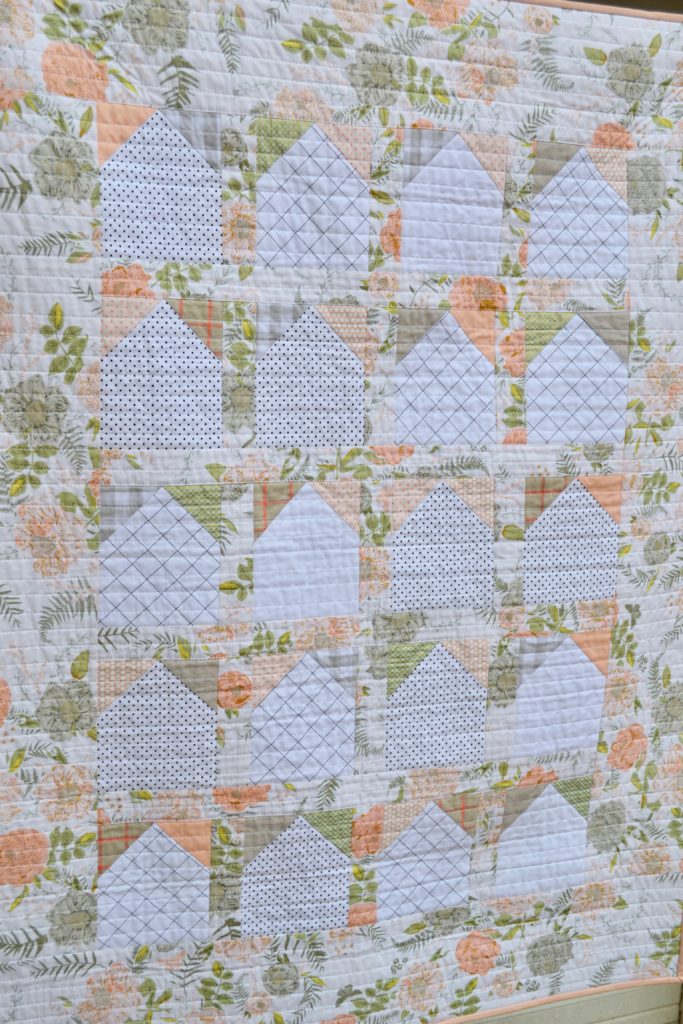 So what happened to "Good Night" House?  Honestly, I just felt like it didn't fit these light and bright versions! Hello House is a more versatile name for any fabric combinations and arrangements one might dream up! I still love the idea of playing with light and dark shades all in the same color family, though. Here are some of the the solid color mockups I would love to see realized in fabric. What ideas do you have?!
Get your Hello House pattern HERE , then share what you create with #hellohousequilt + #seamedtobepatterns . Give me a tag @seamedtobe so I can see your work! Happy Sewing!
-Robin